What To Pack When Moving Abroad – The Ultimate Packing List For Moving Abroad
International move can be expensive. Even if you got rid of all your stuff and start fresh in the new country, you surely have some books, souvenirs or other items that hold sentimental value for you. I know how hard it is to decide what to pack when moving abroad, especially when you have a very limited space in your luggage. When I moved abroad a few years ago, I had a difficult time choosing what items I should take with me and which one I should leave behind. Luckily, Poland isn't so far away from England, so I was able to go back a few times and take a few more things I really cared about. I know that's not always the case and usually you have to deal with it once and for all.
I'm writing this post based on my experience gained not only from my international move but also from multiple moves across the country. Hopefully, this list of necessary items will help you go through the entire process faster and easier, limiting the risk of forgetting about important things.

***Some of the links in this post are affiliate links which means I earn a small commission if you purchase or book through my link, at no extra cost to you.***





What to pack when moving abroad



Unfortunately, packing list for moving abroad varies from person to person. There's no one-fits-all, as everyone leads different lifestyle and their situation is different. Some things are universal for everyone though and that's what I focus in this article. I've broken this list into 6 sections:
Important documents
Medicines & first aid kit
Electronics
Clothes and footwear
Toiletries and make up
Sentimental items
Miscellaneous items
Let's dive in!


Things to pack when moving abroad
Here's the packing list for moving abroad full of necessary items you shouldn't forget about.




Important documents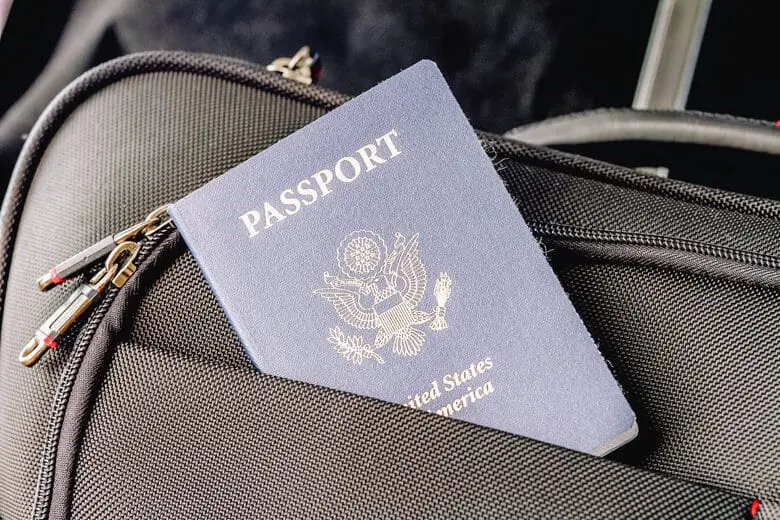 Don't forget to make a copy of all the important documents and keep them separately from original ones. I like to scan them and upload to a cloud like Google Drive or Dropbox so I always can download them on my phone if necessary. Remember to always double check what documents you must have to be eligible to enter your destination country.
Documents you may need:
visa
passport
flight tickets & itinerary
travel insurance
wallet (cash in local currency, credit card)
birth certificate
marriage certificate
doctor certified prescriptions
diploma and other qualifications with their translated copies
copy of your rental agreement and last bills from your previous address





Medicines & first aid kit
If you're moving to a new country, especially one that is on a different continent, you might have trouble getting used to local food, and probiotics might be a good idea to stock up on. If you take prescription medicine, make sure to take monthly supply of them. Some countries have a limit on how much medicine you can take with you.
First-aid kit is something that hopefully you won't have to use, but it's better to be safe than sorry. It's overlooked and considered unnecessary since you might have not needed it at all in the last couple of months. There is nothing worse than having an emergency in a foreign place and looking for a pharmacy, sometimes without even knowing the language.
Here's a short list of items you might want to consider:
Ibuprofen / Paracetamol
your regular prescription medicine


Electronics



Electronics became one of the most important items in our lives lately. You can use them to read books, play with friends, watch movies, keep in touch with your loved ones, or work. Don't forget to check what plug adapters you'll need in your destination country and if you need a voltage converter, for example, when moving to or from the US.
Here's the list of electronic items that I find necessary:
Remember to pack cables and chargers for all your devices.


Clothes and footwear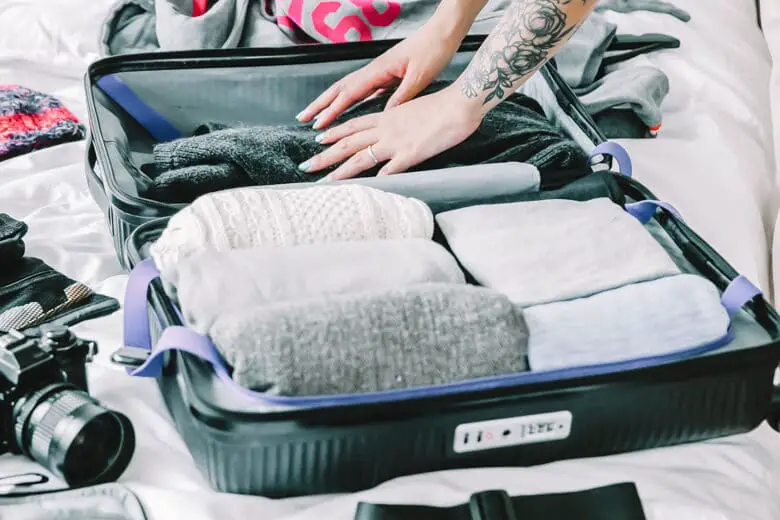 The aim here is to pack only clothes and footwear that are expensive, specialized, or very important to you. Things like leggings, tops or flip-flops are available everywhere in the world and cost little money. Remember to declutter your closet before you start packing to make the entire process easier.
Bear in mind climate in your destination country. Don't forget to take with you some warmer clothes if you're moving to a cold location. This type of clothing is bulkier and heavier, so you might need to sacrifice some space in your suitcase or try to wear them at the airport. Same applies when moving to a warmer place, although packing is easier in this situation since summer clothes are lightweight and take very little space.
Here's a list of some clothing must-haves:
bras and underwear
t-shirts
shorts
pyjama
jeans / leggings
sweater
good quality socks (preferably ankle socks)
comfortable, walking shoes
travel towel
You might also want to consider items listed below, depending on your destination country, its climate, and your lifestyle:
hat
sunglasses
bathing suit
flip-flops
quick-drying t-shirts
scarf, beanie, and gloves
thermal shirts and leggings
wind-proof and water-proof jacket
summer or winter jacket
hiking shoes
formal / work outfit and shoes
sport bra
sport clothes


Toiletries
Before you pack for moving abroad, purge your make up collection and throw away everything that's almost entirely used up or is out of date. If you want to put anything into your carry-on suitcase, make sure that all bottles hold less than 100ml (3.4 oz). As with everything, take only items you really need. Everything else you can buy after you move.
Here's an example list of essentials you should think of when packing for an international move:
toothbrush (and charger, if applicable)
glasses or contacts with contact lens solution
sunscreen (especially if you're moving to a sunny location!)
face wash, moisturizer, shampoo, and conditioner in small, 100ml bottles
nail kit (tweezers & nail clippers)
I've been reluctant about adding face masks to the list, but it looks like current situation won't change soon. Face masks might get handy, since each country has different restrictions and recommendations that change often.


Sentimental items



Even if you don't want to admit that publicly, you surely have some items that hold sentimental value for you. Photos, souvenirs from local trips, books… the list goes on and on. Some people like to bring a few Christmas ornaments to remind them about their previous holidays, family, and great time they spend together. Christmas time is usually difficult for expats, especially if you can't spend it with your closed ones. Being in a completely new, foreign place with no friend can be tough.
photos
souvenirs (like mugs)
books (remember that they're heavy and take a lot of space)
your favourite Christmas decorations (they can bring you a lot of comfort during the festive season)
heirlooms


Miscellaneous items: what else you can bring when moving abroad
Here's a short list of miscellaneous items you might find useful or inspirational to what else you can bring when moving abroad. You can also ship some of them if it's cheaper than buying them new in your destination country.


What you should use to pack when moving abroad




Shell suitcase
Packing a suitcase for an international move doesn't differ from packing for a regular trip, as long as you spent some time deciding what you want to take with you. Don't buy cheap suitcase just to save money. Instead, invest in large, good quality, shell suitcase to minimize risk of breaking it during your international move. It will also protect your belongings better.
Here are three great examples of shell suitcases worth checking out:


Dimensions: 79x58x31cm
Capacity: 127L
Weight: 10.7lbs (4.85kg)
Dimensions: 77x53x30cm
Capacity: 93L
Weight: 10lbs (4.5kg)
Dimensions: 77x50x30cm
Capacity: 100L
Weight: 8.4lbs (3.8kg)


Carry-on bag
Don't forget about buying quality carry-on bag. You'll keep there most of your electronics and fragile items so make sure that they're well protected. I love this suitcase, although you might want to get a bigger one to fit more items inside.
Here are three more examples of great carry-on shell suitcases:


Dimensions: 56x39x23cm
Capacity: 38L
Weight: 6.3lbs (2.9kg)
Dimensions: 48x30x20cm
Capacity: 27L
Weight: 4.6lbs (2.1kg)
Dimensions: 56x45x25cm
Capacity: 46L
Weight: 7lbs (3.2kg)


Plastic storage bins
Plastic storage bins might be very useful if you intend to ship some of your belongings. You might not know that, but some airlines allow to check storage bins as luggage, as long as they meet airline's size and weight requirements. It's a very common practice in the US, Latin America, or Philippines, where people check in books and supplies in plastic tubes. There's one disadvantage though – unless you buy very sturdy bins that can be closed, you might end up with broken, and damaged belongings. They might also get lost if your container opens suddenly during handling it or during flight. Because of that, I'm not convinced as to using this method and would prefer to ship my belongings with a known courier company. I actually sent a few boxes full of my belongings by courier, and highly recommend it.


How to pack a suitcase for moving overseas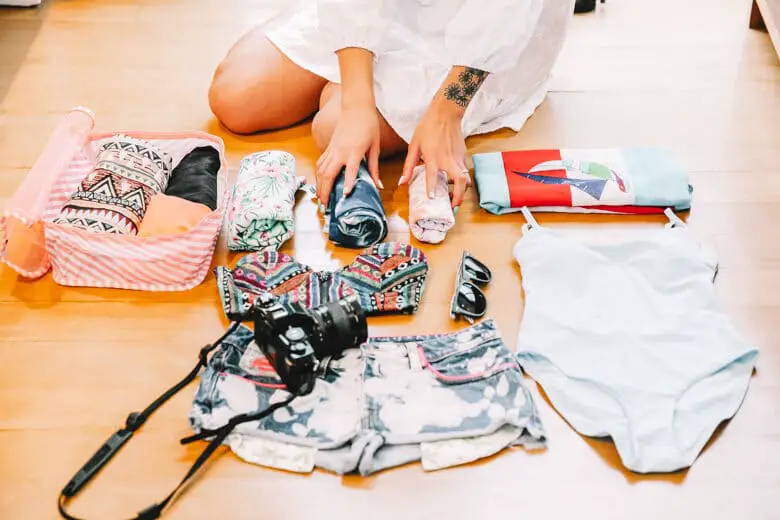 Always check twice.
Moving abroad is difficult and stressful experience. There's a huge possibility that you forget to pack some items even if you made a very detailed list beforehand. Therefore, always check twice to be 100% sure that you've packed everything you need.


Roll. Roll. Roll.
Roll everything you can! Hearing about rolling up your clothes always made me chuckle. Who wants to waste time on something so silly? Well, now that I tried it, I can only laugh at myself for being so sceptical and not starting doing it earlier. Don't make my mistake and roll your clothes. It will save room and wrinkle them less, which will save you time and energy you'd have to spend on ironing them later on. Oh, and you'd have to buy an iron to do that!


Keep your important items handy, but hidden.
There's nothing worse than having your items stolen. Especially, if we're talking about things like visa, passport, boarding ticket, or money! Those are items you'll need the most at the airport before and after your flight. There's no doubt that keeping them handy makes the entire experience easier. Diving into your meticulously packed luggage isn't easy, is it? You should always remember that while it's easier for you to get to your items, it's also easier for someone to steal them from you. Security above anything else.



RELATED ARTICLE: Ultra minimalist travel: How to pack a carry on for 2 weeks


Pack climate-wise.
As I already mentioned before, check what the climate is like in the country you're moving to, what season is there right now, and what weather you can expect. Don't pack winter jacket if you're moving to hot and sunny California and vice versa, forget about taking flip-flops and light dresses if you're moving to Norway in wintertime.


Weight bags before going to the airport.
Make sure that your luggage fits into size and weight requirements specified by your airline. Always weight your bags at home to make sure that they don't exceed the weight limit. If they do exceed it, decide whether it's better for you to pay the fine or ship it. Bear in mind that shipping might be cheaper, but it also might take a long time, depending on the distance. There's no good or wrong decision here. Everything comes down to your preferences.


Ship your bags.
That takes us to another tip. Ship your bags. Sometimes it might be easier to ship them than traveling with them to the airport, dealing with security, collecting bags after you land, and travel from the airport to your end destination. Shipping takes a lot of weight from your shoulders (literally and figuratively) and can make the entire experience easier and less stressful. Some people prefer to keep their belongings with them all the time, and that's okay too, especially if you have some very important, delicate, or sentimental items among them. Choose an option that suits best for you.


Use packing cubes and vacuum bags.
Both packing cubes and vacuum bags are a godsend! They can save a lot of space and organize your belongings inside your suitcase. I wish I had known about them when I was moving abroad! They would seriously make my life a lot easier. Luckily, before I went back to my family's home to take the rest of my belongings, I did my research and came prepared. Vacuum bags are awesome not only for international moves but also if you're moving domestically or simply to keep your clothes and linen organized when you don't need them on a daily basis.


Hope you enjoy this packing list for moving abroad!
I hope this packing list for moving abroad will guide you and help during this stressful experience of moving to a different country.
If you're looking for more packing tips, don't forget to check my article about Ultra minimalist travel: How to pack a carry on for 2 weeks. Some tips might be very helpful also for packing for an international move!



What are your best tips for packing when moving abroad? Would you add anything to the list?


Pin it for later!