3 Steps To Create A Monthly Reset Routine That Will Finally Stick
Some of the links in this post are affiliate links which means I earn a small commission if you purchase or book through my link, at no extra cost to you.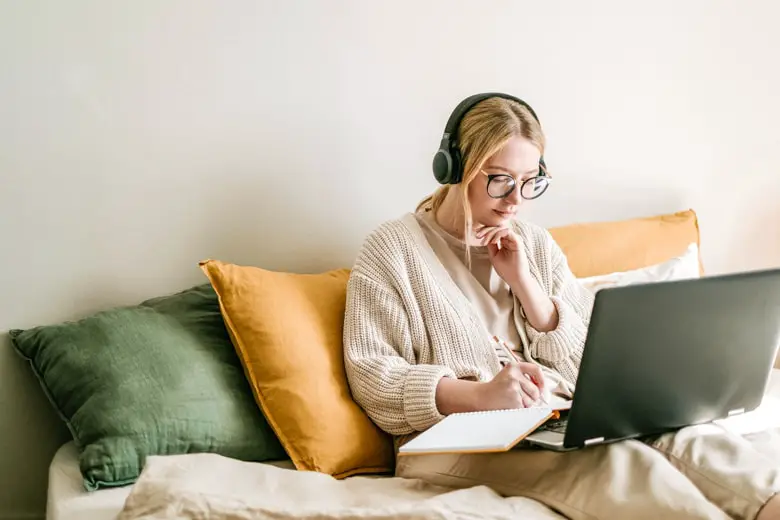 Why do I need a monthly reset routine?
This is something I asked myself over and over again. I tried to create a solid monthly routine and stick to it but nothing came out of it. You know, me and routines don't work well together. 
I don't remember the last time I successfully implemented any kind of reset routine into my life. There's a thing, though. You can't repeat the same actions and expect different results. If you want to be more organised and productive, have more time, or limit the amount of stress you feel at the end of the month, you need to create a solid monthly routine that will make you feel excited, not anxious.
Have you ever been nervous about checking your bank account at the end of the month? Or maybe you set your yearly goals but haven't tracked the progress you've been making and you don't really know where you're at? There's no better way to avoid that than implementing new habits and put them under the monthly reset umbrella.



Navigate to where you want to go:


How to create your best monthly reset routine ever
Set up a date
Schedule a date with yourself to tackle this project. I know how creating routines can be overwhelming, especially if you've done nothing like it before. That's why it can be very helpful to set up an appointment with yourself (or with your partner) and put it in your calendar. Block two hours to make sure you'll have enough time for it and you won't have to rush it.


Do a braindump
Now, it's the most tough part of creating your best monthly reset routine ever. Journal, or brain dump, all the ideas that come to your mind when you think about doing monthly reset. Is there anything in particular you'd like to implement? Is there anything that would make your life easier, like meal planning or going through your budget? Tracking your goals? Don't overthink it and put on your list anything, even if it might seem silly or impossible.


Create a plan and repeat it monthly
Now, take a new piece of paper and sift through all your notes. Go through them one by one and decide whether it's something you'd like to include in your monthly reset, or maybe it would be better to repeat it on a weekly basis.
Once you're done, create a new list with all the tasks you just assigned to the monthly reset routine.
Now, look at them. Are you happy with how your list turned out? Would you add or remove anything from it? Are you confident you'll be able to follow through your newly created plan?
If the answer is yes, put your monthly reset routine in an easily accessible place and schedule time to work through it every month. 
And just like this, you're done! 


Monthly reset routine ideas
Reset your physical space
Resetting your physical space is a great way of heading into a new month (or any new period of your life really) with a clean slate. What it entails depends solely on your preferences. You can deep clean your entire house, or organise everything to make it visually appealing. Pick up toys scattered all around the kitchen. Put everything back into their correct place.
Think what resetting your physical space means to you and do exactly that. Don't compare your reset to someone else's.
Having a clean and organised space reduces stress and anxiety that might accompany you every day. It's also more pleasurable to spend time in an uncluttered home and that's what we're aiming for here.


Reflect on the past month
If you don't look back, you won't know how far you've come. Spend some time reflecting on the past month and checking what progress you've made towards your goals. And if you have made none, brainstorm steps to get you right back on track.
Is there something that didn't work? Are you proud of anything? Dedicate one evening for journaling and looking at your past so you can start a new month on a high note.



PIN IT FOR LATER!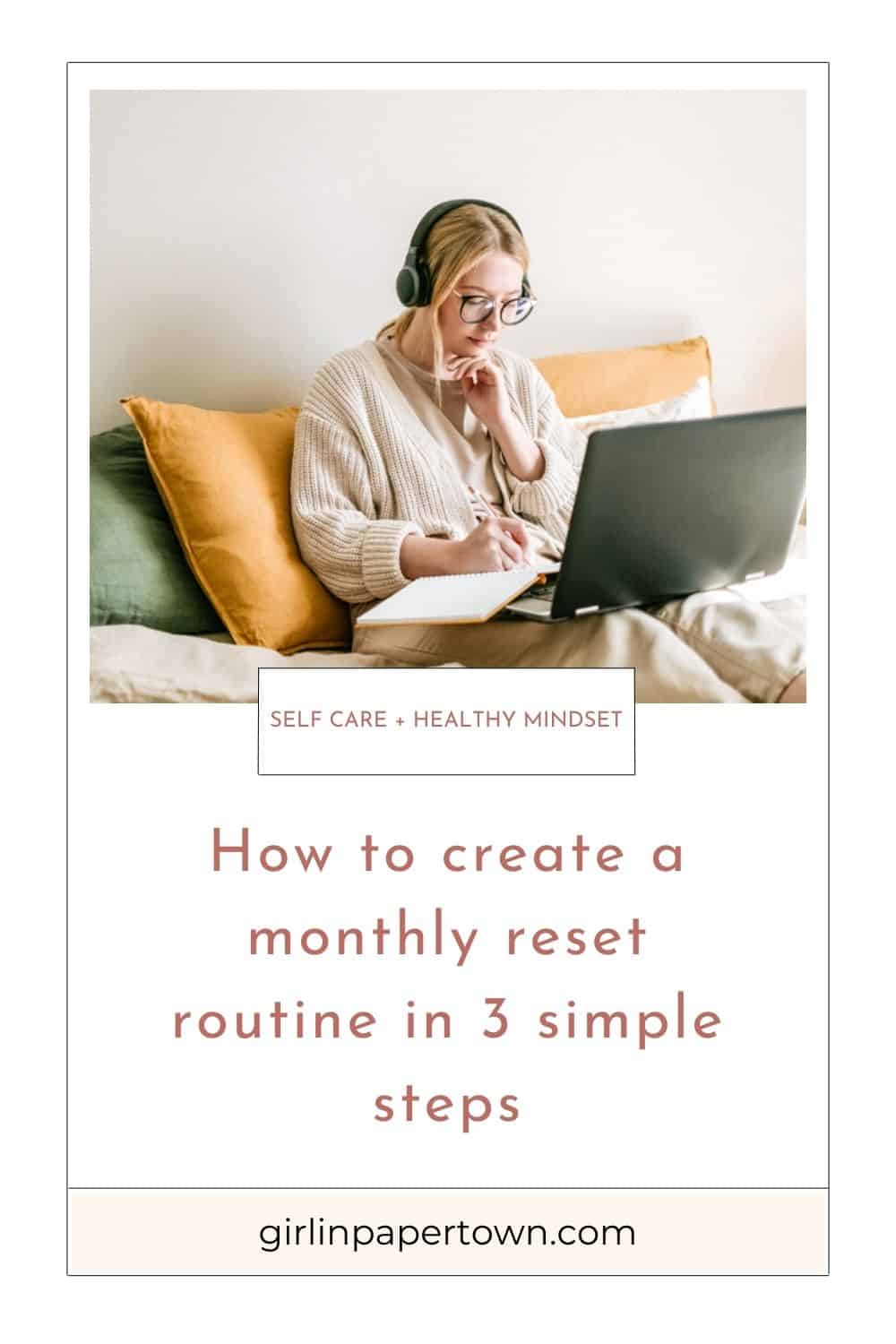 Reset your digital space
I struggle with decluttering my phone. Truly. I have hundreds of photos, videos, and screenshots. Apps I don't really use and keep them "just in case". That's why resetting your digital space made its way into my monthly reset routine this year. It's vital to keep your phone free of clutter and to back up its content regularly.
There's no point in making a copy of things you don't want to keep, though, so declutter first, backup second.
Remove all the apps that you don't find useful at all or that keep stealing your time. Yes, I mean social media apps and all those random games you play every time you get bored! Yeah, I know, you might think that you don't use them too enough hence there's no point in deleting them. Or that you limit time spent with them so there's no harm in keeping them installed on your phone.
How much time have you spent using them in the last couple of days, though? 
That's what I thought! 
I know that removing social media apps seems like a lot, and it might be for many people. Sometimes it's the only way to go if you want to reclaim your time and spend it productively. I'd recommend at least getting rid of games and other random apps you don't used to preserve free space on your phone and keep it free of clutter.
Remove all the apps from your home screen too, unless you really need easy access to them. Organise widgets, change background, make your home screen pretty. You spend a lot of time with your phone every day, let's make sure that it looks nice!


Check the progress you've made on your past month's goals
One reason you don't achieve your goals is because you don't keep track of your progress. It might seem pointless, but without it, you won't know if you're still on track to achieving your goals. 
It's very easy to go astray once you forget what your goals look like. Check the progress you've made once a month and see what you can do to improve. If you're slacking behind, find ways to get back on track. Plan your way without feeling guilty.



RELATED:
New month, new goals – how to set monthly goals and succeed


Set goals for the new month based on your yearly goals
I have a love-hate relationship with goals, to be honest. I know what my life vision is and I know what my end goal is, but I find difficult to plan my way to it. Every time I look at my goals, I feel like something is missing. 
Setting goals for the new month based on my yearly goals has been very difficult for that exact reason. I just went through my goals for this year, maybe fourth time this month, and rewrote them once again. I think I found the perfect way to plan my way to achieve them, though, which is great. And setting monthly and weekly goals is crucial to my new system! 
There's a huge chance that you'll soon forget what your yearly goals are. I know I would've already forgotten if I didn't put them on my phone's home screen. Go back to your list regularly. Divide them into smaller chunks so that you can move the needle each month, little by little, until you achieve them.


Plan rest days
I know it sounds strange. Who plans rest days? I mean, who would plan to be intentionally unproductive? It makes no sense. 
But, the truth is, that many people do that. Also, they swear by it. I don't like the idea of scheduling anything really, so planning rest days hasn't really worked out so far. I'm currently trying to theme my days and dedicate Saturday to rest and family time, but we'll see how it'll go.


Reset your budget
One thing that stresses me out the most, are finances. Especially now, with prices constantly rising and salaries staying put. After months of testing different things, I noticed that setting a budget and reviewing it regularly helps me not to worry about it that much. 
Another thing that you can implement into your monthly reset routine is creating saving plans and reviewing how much progress you've made. This will make you feel you have more control over your life and finances. 


Pick one area of your life you'd like to improve this month
Everyone sets goals, but I've never heard about anyone picking an area of your life you want to improve. It's an interesting twist on making sure that you keep working on becoming a better person.
Look at things that stress you out or you've always wanted to change, but you've had no motivation to do it. What about cleaning your kitchen before you go to bed? Or going out for a walk every day? Maybe you've wanted to start meditate regularly? 
I bet there are a lot of things that you'd like to implement in your daily life, but it's been tricky or too overwhelming to do so. Let's make your monthly reset routine a time when you plan to start on working all those improvements you've wanted to.


Pick one personal development book to read this month
I don't love reading personal development books and I believe I'm not alone. There's something about them that's not very enticing, isn't it? Reading them has many benefits, though, and can be helpful in creating a better version of yourself.
Make it a habit to pick one personal development book to read each month. Go through your TBR* list. Who knows, maybe you wanted to read one in the past but you've never got to it?
*to be read


Pick a theme for the new month
Many people choose one little word for a year and either forget about it or change their outlook on life so that word doesn't fit anymore. I chose my one little word this year too, although the idea of picking something for the entire year stressed me out a bit.
Choosing it for each month or a quarter seems like a better idea. Each month, you can choose a different word that would help you focus on your goals or priorities this month. 
Picking a theme can be a great alternative too. So, for example, you can pick a decluttering theme for one month and be family-oriented for another. There are lots of possibilities. My theme for the first quarter of 2023 is actually decluttering! That's my primary goal and I'm finally making my way towards.



RELATED:
First Month Of 2023: How It's Been Going So Far – January Recap


Restock your home
End of the month is a perfect time to restock your home. Go through your pantry and your bathroom and check what items you're running out of. I like to always have a few back up items so I don't wake up one day and realise that I don't have any shower gel or toilet paper left. Both, living in the middle of nowhere without a car and the pandemic taught me that having spare items gives a peace of mind.
I've noticed that many people strive to be minimalistic and don't keep any spare items. The amount of time I heard that it's because they can always go shopping is overwhelming. What if you need something now and you can't go out anywhere? I prefer a cabinet full with items bought on various offers so I can not only save money in the long run but also sleep soundly knowing that I suddenly won't run out of anything. I know that minimalism means something different for everyone else and that's my version of it.


Monthly reset journal prompts
What went well this month?
What didn't go well this month and what can I improve?
What did I struggle with this month? How did I deal with it?
What did I learn this month?
How did I take care of myself this month?
Did I make progress towards my goals?
What is my goal for the upcoming month? What steps can I take to achieve it?
What habits do I want to implement next month?



PIN FOR LATER!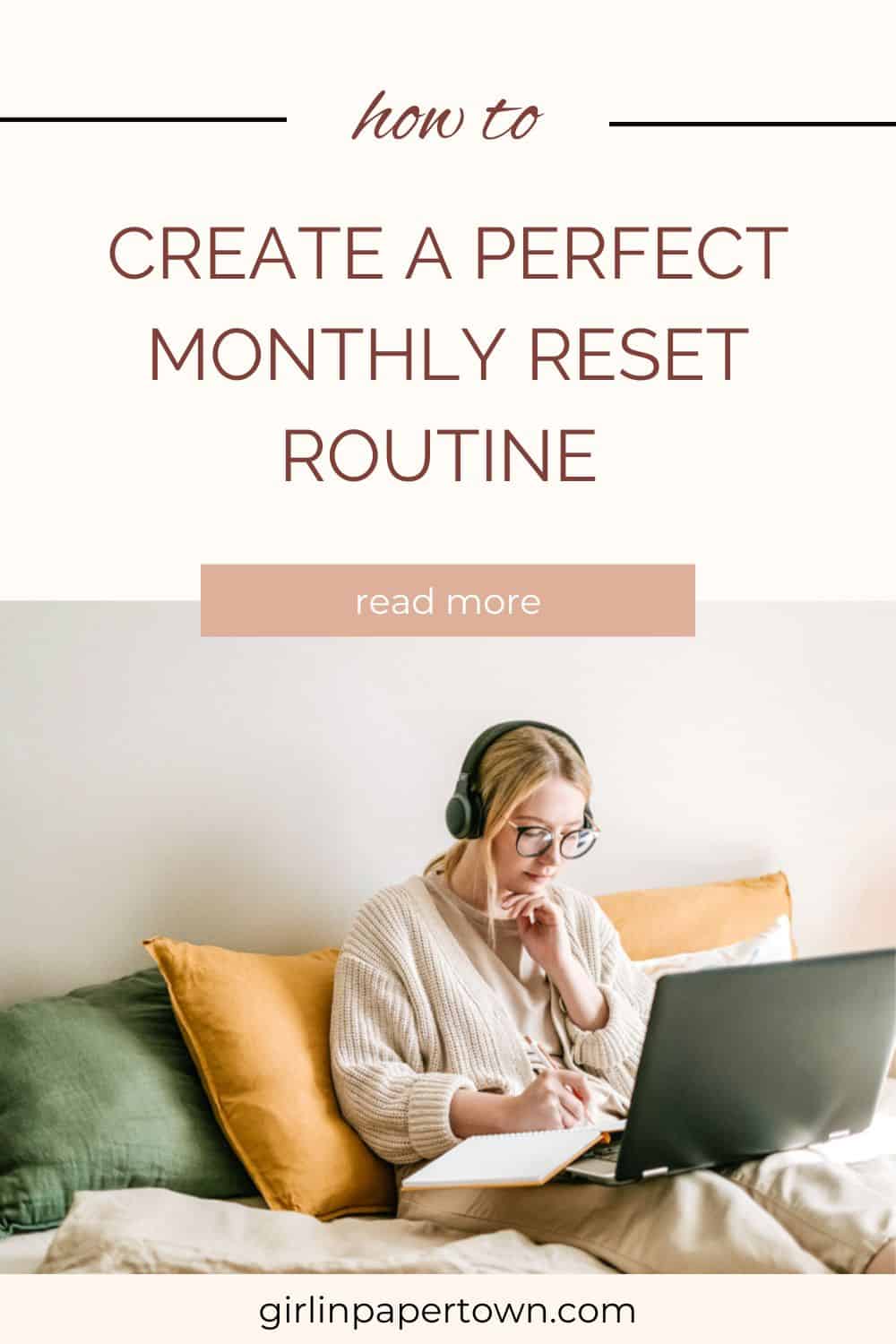 Monthly reset routine: Conclusion
Monthly reset routine is often overlooked but helpful way of making sure that you're on track to achieving your goals, making adjustments to your lifestyle, and planning your weeks so that you won't forget about any important events or appointments. Have you ever forgotten about your friend's birthday and had to rush to the shopping centre to find a last-minute gift? By having a solid monthly reset routine, you're making sure that such situations won't happen again. 
I've never really had a monthly reset routine, nor reset routine of any kind, to be fair. It took me a while to come up with things that actually work for me and it's been a real game changer! I overwhelmed and stressed by the tiniest things easily, so monthly reset routine is my way of taking care of myself and sprinkling acts of self care throughout my life. 
I hope all those tips and ideas to create your perfect routine will help you do exactly that – create a perfect monthly reset routine that will support you and help you become a more organised version of yourself.
Till the next time!